Apple has taken a hard stance on user privacy and security for years, turning the iPhone into one of the more secure popular consumer electronics on the market. And Apple has been improving along the way, with the recent support for end-to-end encrypted iCloud backups being the latest example. But advertisers can still track you on your iPhone — even Apple has been found to do it. If you value your privacy, you should stop personalized ads from appearing on the iPhone. And the good news is that it's quite easy to do.
Stopping advertisers from targeting you with personalized ads on iPhone should not be confused with the App Tracking Transparency (ATT) feature that Apple introduced last year. ATT forces apps to ask you whether you want to let them track you across other apps and websites. That's also something you should decline every time you see the prompt.
The personalized settings concern the ads you see in iPhone apps. Blocking advertisers from showing you targeted ads will not stop them from placing ads in apps. But the ads will be less relevant, as advertisers should stop collecting identifiers that can help them build user profiles.
As a result, you should improve your privacy when it comes to Apple ads. Other companies might still abuse iPhone data to harvest information about you for targeted ads.
How to block personalized ads on iPhone
As Tom's Guide reports, it all happens in the Settings app on iPhone. The process is identical on iPad.
Tap on the Privacy & Security menu, then look for the Apple Advertising option. You'll want to toggle off the Personalized ads option.
That's all you have to do to stop personalized ads on the iPhone.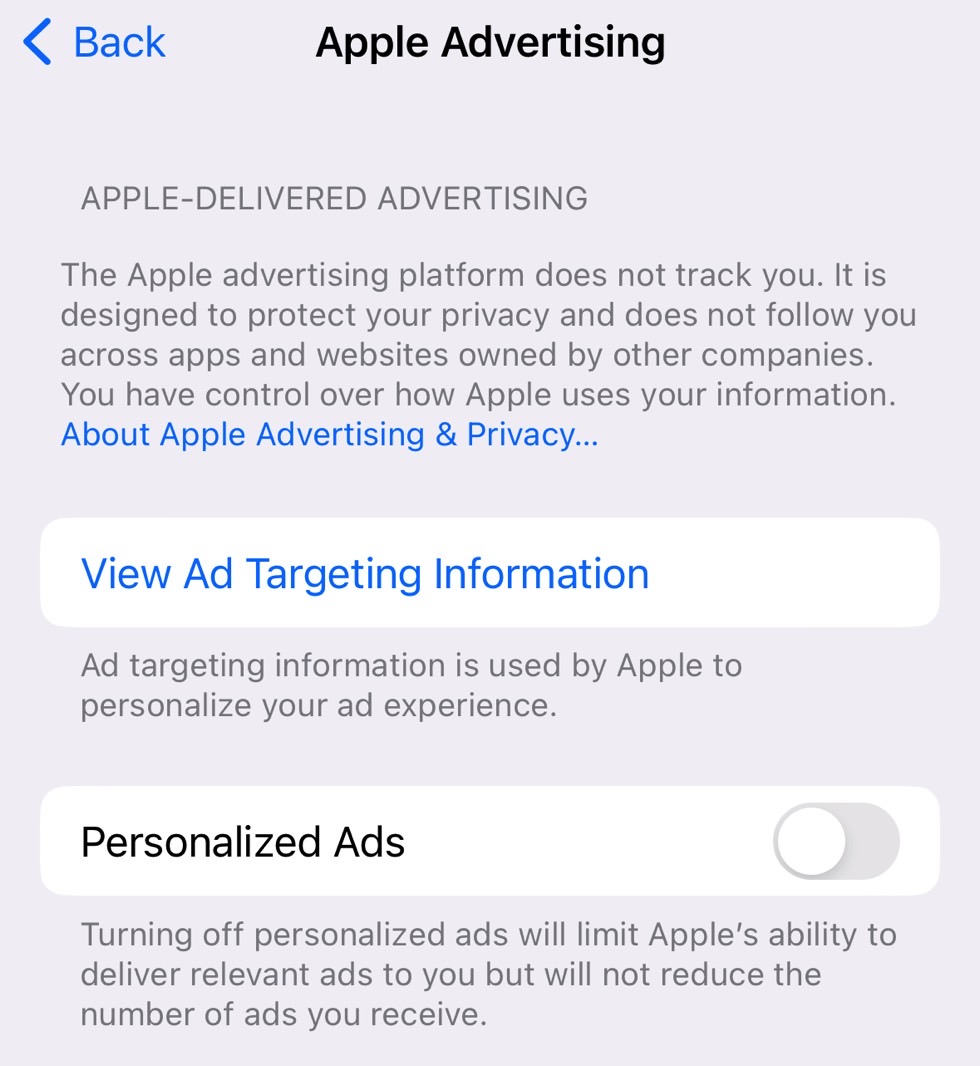 As you can see in the screenshot above, Apple warns that the number of ads will not change:
Turning off personalized ads will limit Apple's ability to deliver relevant ads to you but will not reduce the number of ads you receive.
That's understandable, as app developers who use advertising to monetize their products still have to be able to earn a living. But it shouldn't be at the cost of the iPhone user's privacy.
Other tips to boost your iPhone privacy
In addition to eliminating personalized ads from the iPhone, you can take additional steps to improve your privacy.
While in the same Privacy & Security menu, look for the App Privacy Report to see what apps have access to what phone sensors. In case you notice any strange behavior from apps that shouldn't access things like Contacts, Location, Microphone, or Camera, you can take action immediately.
Secondly, check the Tracking menu to ensure you're blocking apps from tracking your activity on iPhone. If you have any favorite apps that you'd like to allow to track you, you can still do that. But any iPhone data apps collect about users might still lead to seeing more personalized ads elsewhere.
Using a VPN service to help anonymize your iPhone's internet browsing is something to consider. An alternative is Apple's Private Relay feature.
Finally, sticking with Safari instead of Chrome for web browsing limits Google's ability to collect data from your iPhone internet traffic. This can further improve your privacy and reduce the number of personalized ads you see on the web.